Dotdash: Evolution Of A Modern Publisher
How not falling for industry trends can be a winning strategy
"... there is no business in gaming someone else's algorithm in the long term. It's been proven over and over and over and over again."

Neil Vogel, "Recode Media with Peter Kafka," 2019
Dotdash was flying high in January 2019 when Neil Vogel joined Recode's Peter Kafka to talk about the media company's evolution from faded internet giant to one of the darlings of parent company IAC's portfolio. Dotdash's annual revenue had increased 44% compared to the year before, and total unique visitors to its properties had reached 87 million – up from 51 million uniques from before it was rebranded from About.com. 
Nearly two years later, the media company is still cruising, seemingly defying the coronavirus pandemic and economic carnage left in its wake. Dotdash's 2020 Q2 revenue managed to increase again, this time 18% to $44.6 million, continuing a streak of 13 consecutive quarters of double-digit growth. 
While most publishers are struggling with economic headwinds and the realities of changing business models, there are a few exceptions that seem to buck the universal doom, gloom, and malaise: There's the news property Axios, the revamped under-new-ownership Time magazine, the punchy Business Insider, and emerging formats such as paid newsletters that fundamentally present a different content production calculation. 
And then there is Dotdash. The publisher's intent-based media strategy has evaded the catastrophic advertising revenue declines that have struck almost every other publisher during the pandemic. The company provides a compelling lesson for other publishers, many of which follow the tortured path originally articulated by Rita Mae Wilson and often misattributed to Albert Einstein:
"Insanity is doing the same thing over and over again, but expecting different results." 
Instead, the Dotdash rebrand and strategy provides a simple formula for a new type of media company that can withstand and even thrive in this unpredictable environment in which we find ourselves today. 
And the company keeps executing that plan without fail. It doesn't do subscriptions, which many publishers began desperately testing during the pandemic. And Dotdash doesn't publish news, so it avoided much of the advertiser flight from the unrelenting coronavirus and social unrest headlines during the last six months. It wasn't completely immune to the headwinds; it experienced firsthand the decline in traveling advertising dollars, but it was able to offset those losses by its diverse range of media properties, which represented safe havens for advertisers during the pandemic.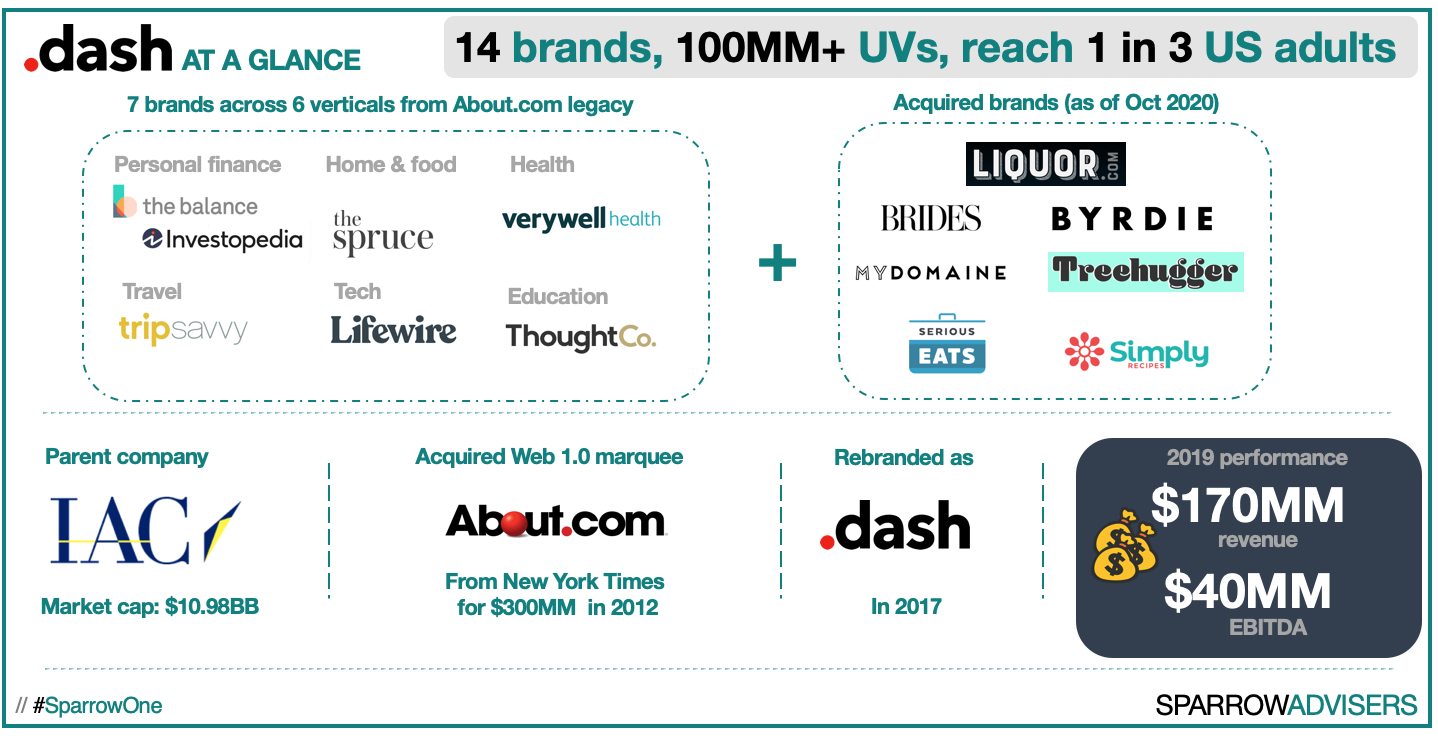 ---
A critical pivot
Dotdash's success, however, was far from assured; in fact, it was one of the biggest mastheads of the early internet era and seemed destined for the forgotten low-quality content heap, joining the likes of Demand Media and other content farms that profited from the gaming of Google's algorithm.
Founded in 1997 by digital media guru Scott Kurnit, the site that would become About.com was initially designed to cover a ridiculous number of topics. The company changed hands several times, first to Primedia in 2000, and then to The New York Times five years later. Though it had always been profitable, the Great Recession, Google's algorithm changes and the emergence of Facebook took a toll on digital media, leading the Times to sell About.com in 2012 for $300 million to Barry Diller's InterActive Corp (IAC), whose properties include Care.com, The Daily Beast, Angie's List and the Match Group of dating brands, which was spun off in June 2020.
IAC gave About.com autonomy, patience – a rare gift for a public company – and Neil Vogel, who was named CEO in 2013 and rebuilt the site's technology and redesigned its content. The company persisted and remained profitable, but it stopped growing and, instead, its audience shrank.   
"Users would get to our site and didn't know what to make of us," Vogel told AdExchanger's Kelly Liyakasa in 2016. "It's hard to get a fried chicken recipe from the same people who have 'how to treat colitis' content, no matter how good the content is. And advertisers loved our scale, reach and data, but if it was between us and Everyday Health, it wasn't a fair fight."
Vogel and his team saw that the publishers that were succeeding were vertical, premium publishers. In 2016, About.com stopped trying to be all things to all people and began launching vertical sites with unique branding and dedicated teams, including Verywell (health and fitness), The Balance (personal finance), Lifewire (technology), The Spruce (home and food) and ThoughtCo (learning). About.com officially became Dotdash in 2017, launching TripSavvy (travel) a few weeks later.
While About.com was never a content farm, per se, much of its content was old, not all of it great. Its new strategy banked on "need to know publishing" – high-quality evergreen content that could answer readers' questions, solve their problems and provide inspiration. It employed about 125 editorial and used about 1,500 freelance writers as of December 2019, according to this pitch deck. Every piece of content is updated at least every year, and sometimes even every week.  
To achieve its vision, the company created long-term plans, with short- and medium-term results. The company developed a clear process for launching a new brand or vertical, including a three-month incubation period followed by expected revenue in the fourth month; for example, Dotdash acquired Simply Recipes and Serious Eats in September 2020, so based on its acquisition playbook, we should begin seeing the properties generating revenue for Dotdash in January 2021. It also closely guards its first-party data and strictly locks down its audience, so advertisers can only buy its inventory from Dotdash. The publisher has also supplemented its advertising with affiliate commerce, performance marketing, and consumer revenue. 
"This transformation led to something extraordinary in digital media – a turnaround" Aaron Cohen wrote in Fast Company in January 2020. "While other independent media companies were engineering their coverage around social media, video, and trending topics, Dotdash doubled down on text-based articles about enduring topics and avoided cluttering them with ads – a strategy that Daniel Kurnos, an analyst at the investment bank Benchmark, credits with boosting Dotdash content in search results. (He calls IAC an 'algorithmically elite' company for its deep understanding of how to infiltrate search engines.)" 
Turns out that "pivot to video" wasn't the only strategy available. 
---
Four key differentiators: 
Ads:
When most publishers were stuffing their pages full of ads to juice revenue, Dotdash chose to focus on a better user experience, with 35% fewer ads, which serves to declutter pages and speed up the sites; the ad units are also more impactful, with no pop-ups or interstitials. Though there are fewer ads, they command higher CPMs. All of its ads, including high-impact, home page, and native, are available to advertisers programmatically, according to Sara Badler, Dotdash SVP of programmatic revenue and strategy.
Dotdash has expanded further into online beauty advertising through acquisitions of cross-vertical properties Byrdie, Brides, and MyDomaine – a lucrative category dominated by incumbent publishers such as Condé Nast and Hearst. But while advertising represents the majority of Dotdash revenue today, the company is also aggressively diversifying with e-commerce plays and branded merchandise, such as pet care products and paint; e-commerce currently accounts for roughly 25% of Dotdash's revenue. 
Programmatic strategy and buying options:
Dotdash has made it easy for advertisers to buy its inventory directly and programmatically. The company has embraced programmatic ad buying and is known to help advertisers make their buys more efficient with private marketplace deals (PMPs), which may include price controls, and supply-path optimization, which identifies the most effective path to its inventory. 
For Dotdash, "the role of the PMP has definitely evolved because, with supply-path optimization, we're able to say these are the primary SSPs we use and this is the best way you can access our inventory," Badler told Digiday last year. "It brings back the conversation of this is why the PMP is valuable, because you're getting a direct connection into what we do and how we do it." 
The company takes a vertical-specific ad sales approach. It hired experienced sellers in each vertical and packages specific offerings for each. Dotdash concentrates on driving spend from key advertisers in each vertical. Ad revenue had been growing at a 19% compound annual growth rate, as of 2019 Q3, with more than 90% retention of its top 25 advertisers over the prior three quarters. It also works with advertisers to identify unique objectives and document what works as case studies to illustrate success and drive more business. 
Exclusivity
:
Dotdash emphasizes its first-party intent data over third-party data. Its audience is only available through Dotdash. Dotdash executives have articulated the uniqueness of its intent-based audiences in appearances at industry conferences and in the press.  
Its first-party intent data, gleaned from the more than 100 million monthly users who visit its sites, often with specific questions they want answered, allows Dotdash to help marketers with targeting and measurement without the use of third-party cookies, which will be deprecated by Google Chrome within the next year or so. For example, Dotdash helped a financial marketer last year reach people who were consuming content about retirement planning and savings on Investopedia and The Balance. The publisher used that consumption behavior to create segments for the marketer that could be purchased programmatically. Badler said that the Dotdash intent data boosted the brand's click-through rates by 50% relative to a non-targeted buy using third-party data. The segments cost more and varied in size because of seasonality, which Badler argued was justified by their performance. Dotdash can also help marketers with device-specific insights and identify differences in iOS and Android users, giving them the ability to cherry-pick only those they want to reach.
The publisher is positioned well for the impending loss of third-party cookies, which will impact targeted advertising and measurement.
"If every cookie disappears tomorrow, it would be great for us," Vogel said during an AdMonster's event. "We can map every piece of content to every other piece of content. We've been doing this so long, we know exactly how a campaign will perform as soon as we lock in." 
Niche vs scale:
Dotdash has just enough scale: more than 100 million unique visitors across its sites. It is No. 35 on the Comscore Top 100, ahead of Forbes and Condé Nast. The company continues to grow through acquisition and at the time of writing operates 14 properties: 
Its acquisition plan typically involves buying niche, service-oriented sites with loyal followings and heavily investing in them. 
"It usually takes us three months or less to transition onto our tech stack," Vogel told Digiday. "We take that three months and do deep dives on their content. We bring the editorial teams in and we understand what they want to do, what they'd do if they had unlimited resources. We spend three months hashing out content, then we get them on our platform. We are initially most concerned with the tech, the product, and the content, then we will figure out the revenue. To bring it to advertisers in the best way, we need it on our platform." 
Dotdash's strategy also hits at the core of that niche vs. scale monetization challenge that modern publishers face. There's little chance and even less sense in competing with the likes of Facebook and Google on scale; yet current monetization methods rarely work well for niche publishers that also need to maintain legacy (read: expensive) content production lines. This umbrella approach of niche brands that target similar verticals and audiences can work well and is certainly something we see as also emerging in other industries. (The best example are challenger brands, which we first covered here.) 
---
The takeaway
The Dotdash strategy seems so simple, and it's been proven to not only work but enable the publisher to thrive at a time when media companies have struggled during the pandemic. Most publishers have laid off employees, but Dotdash is acquiring more companies.
It is also going to market so much differently than most publishers. It's hard not to roll our eyes when we hear publishers start their pitch by talking about their *massive* scale – maybe 30 million unique monthly visitors – which is ludicrous when they're competing against Facebook and its 2.7 billion monthly active users. Publishers will also often talk about how great their data is, which, again, sounds ludicrous because they're still competing against Facebook and also Google, which, for starters, harvests data from more than a billion users with Google accounts and 90% of the world's search engine use. And so many publishers are still unsure about which advertisers they should be going after, how they can effectively sell programmatically without the internal conflict between direct sales and programmatic, and how to package their inventory in a way that makes sense. 
Dotdash is doing none of that. It knows its data and slices its inventory in interesting ways. It lets advertisers buy its inventory simply through any channel they want. It's not cannibalizing itself between direct sales and programmatic. It's delivering quality content to users, with a better experience. Through thoughtful packaging it's also giving something truly unique to its advertisers – a promise many publishers make but fail to live up to. 
And it's working.
---
One question:
How long will it take before other publishers to finally begin trying to replicate Dotdash's success? When will publishers stop trying to compare their meager scale and data to Facebook, Google, and Amazon?  
---
Thanks for reading,
Ana & Maja
---
Dig deeper
:
---
Enjoyed this piece? Share it, like it, and send us comments (you can reply to this email).
---
We're a results oriented management consultancy bringing deep operational expertise to solve strategic and tactical objectives of companies in and around the ad tech and mar tech space.
Our unique perspective rooted deeply in AdTech, MarTech, SaaS, media, entertainment, commerce, software, technology, and services allows us to accelerate your business from strategy to day-to-day execution.
Founded in 2015 by Ana and Maja Milicevic, principals & industry veterans who combined their product, strategy, sales, marketing, and company scaling chops and built the type of consultancy they wish existed when they were in operational roles at industry-leading adtech, martech, and software companies. Now a global team, Sparrow Advisers help solve the most pressing commercial challenges and connect all the necessary dots across people, process, and technology to simplify paths to revenue from strategic vision down to execution. We believe that expertise with fast-changing, emerging technologies at the crossroads of media, technology, creativity, innovation, and commerce are a differentiator and that every company should have access to wise Sherpas who've solved complex cross-sectional problems before. Contact us here.
---