Discover more from Sparrow One
The one thing not to miss every month
Over 1,000 subscribers
Entertainment goes DTC
Part 2 of the 'Together Apart' Series
The pandemic is accelerating many of the underlying advertising, media, and commerce trends that were slowly bubbling to the surface. We're experiencing rapid shifts in global consumer behavior - an experience we're sharing collectively, yet alone - away from our regular pre-pandemic social lives. Some of these shifts may be temporary, but many will stick around - we'll digest which ones are most relevant for brands, media owners, consumers, and other relevant constituents, all through the lens of content and experiences we like to consume the most. Last week we looked at sports. Today's second installment focuses on entertainment. 
---
If you talked to a New Yorker some time between 2015 and 2019 chances are they would have found a way to sneak in 5 words into whatever conversation you were having: "So, have you seen Hamilton?". Rarely does a Broadway show capture so much attention among the non hardcore theater crowd. When the show moved from off-Broadway to the Richard Rodgers Theater almost 11,000 people would see it every week, with ticket prices routinely averaging in the $250 - $300 range, for a total New York gross of ~ $650 million. It was clear that this was a premium entertainment experience that seems to have benefited greatly from the imposed scarcity of its initial run (only so many people can fit into a theater in a given day in one location) and the word-of-mouth that propelled it to 11 Tonys, a Pulitzer, and well-deserved super-stardom for its creator, Lin-Manuel Miranda. The show subsequently expanded to Chicago, London, and 3 US tours (so far). Analytics company Samba TV estimates that 7.8 million people globally have seen the live production since its premiere in 2015. Everybody wanted to be in the room where it happens.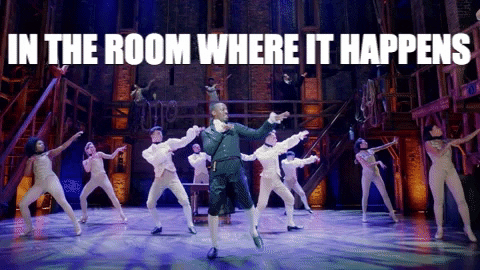 It's not much of a surprise then that Disney would shell out $75 million for worldwide film rights to Hamilton. The original plan was to release it in theaters as a feature film in October 2021; in the meantime Disney would invest in a slate of ancillary content for streaming platforms to build momentum ahead of the planned theatrical release. What perhaps is surprising is what happened next: this deal was finalized in February 2020 just as we were beginning to glimpse the potential global implications of the COVID-19 pandemic. To Disney's credit they moved quickly and with an agility rarely seen in big entertainment powerhouses: instead of sticking to a theatrical release in ~18 months' time, they would use Hamilton to drive sign-ups to their then nearly 6-month-old DTC streaming service Disney+. What a bargain for just $6.99 a month. This is a well-calculated move: the late 2021 theatrical slate is already jam-packed with a litany of postponed blockbusters. There's a looming shortage of new content as COVID restrictions have frozen new and ongoing TV and film productions. Meanwhile people (and their kids) are stuck at home and craving entertainment. 
How well did it work? Connected TV analytics tracker Samba TV estimates that in the first 10 days of its run, from July 3rd to July 13th 2020, around 2.7 million households streamed Hamilton. An average US household has 2.54 members which would mean that, per Samba's estimates:
more people saw Hamilton in its initial 10-day streaming run on Disney+ than had seen it throughout its entire run in theaters to date.
We'll have to wait till August to spot any effect Hamilton may have on overall Disney+ subscriber numbers; they last reported 54.5 million subscribers in May. Not bad, 6 months out the gate.  
---
Why should you care: 
You're probably wondering if today's One is solely an homage to Hamilton. It's not, although Hamilton's rollout provides so many good examples of how to approach turning a successful live in-person performance to a successful virtual one. What we really want to talk about is how we're witnessing a new entertainment category emerge before our eyes:
Like with sports, it lies somewhere in-between the in-person, event-focused world we're so used to and the possibilities that stem from an increasingly on-demand, asynchronous world.

In this emerging world an event's appeal wouldn't be constrained by geography, how many seats a theater has, or when you're experiencing it for the first time. Accelerated by COVID-19-related restrictions on physical gatherings, this shift is not only affecting how we perceive and consume entertainment as fans but is letting creators and distributors reconstitute the entire entertainment delivery stack with a more DTC-oriented model. 
Consider the following examples of emerging entertainment experiences:
The musician Nick Cave tried a new format in the wake of cancellations and postponements of his world tour. He filmed a single-take, stripped down concert (just him at a piano in lieu of the more elaborate typical setup when he fronts the Bad Seeds) and offered it as a streaming event: one night only, 3 time zones, palatable price point. Tickets were ~$20 per stream; normally concert tickets at Alexandra Palace, the venue where this concert was filmed, start at £35 or ~$46 per seat. The ticket buying experience worked well, too - tickets were bought and delivered via the Dice.fm app; 15 minutes before the show started you'd get a unique streaming code on your mobile, and you could use it to unlock the stream on any connected device. The stream itself was delivered over Vevo. The concert presented an interesting combination of unique performance, synchronous-yet-asynchronous (depending on your timezone) virtual experience, and likely reached far more than the 10k attendees that Alexandra Palace can accommodate. Accounting for the various technology and production fees, this type of engagement likely looks better economically for the artist, too. Mr. Cave is, of course, not the only musician experiment with transitioning to live-streamed shows: the potential here along with temporary weirdness was perhaps best captured by bluegrass artist Sturgill Simpson during his livestreamed charity show in early July: 

"Here we are tonight at the Ryman Auditorium in front of absolutely no one [...]

This is also surreal because we're playing in probably my favorite venue in the world to questionably maybe one of the largest audiences I've ever played for and I can't see any of you."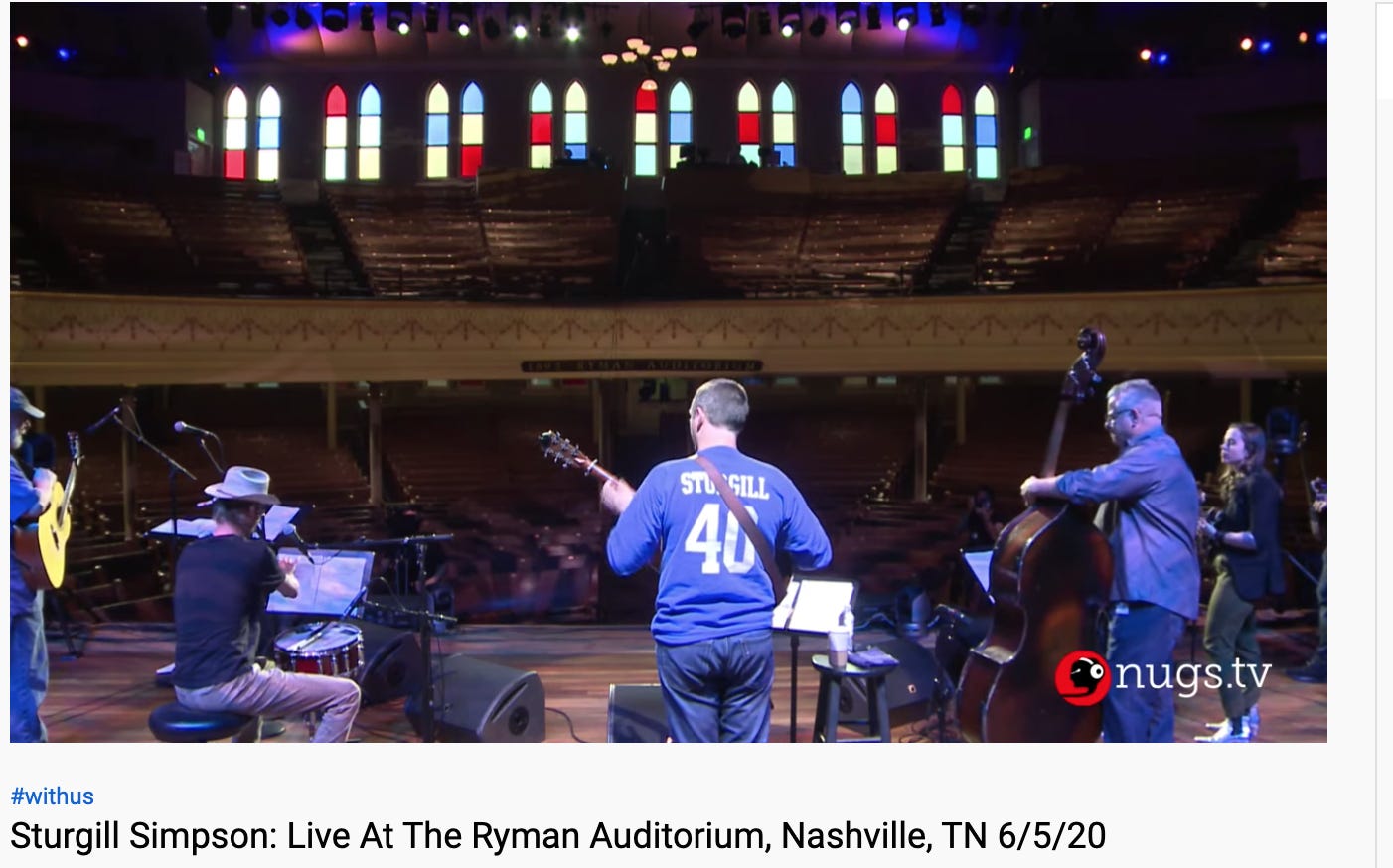 Superstar comedian Jim Gaffigan is also trying something new: a drive-in tour. Gaffigan's fans drive to a parking lot and stay in or on the roofs of their cars, with enough space between each other to observe social distancing recommendations. "I performed standup comedy to close to a thousand cars!", commented Gaffigan on his inaugural show.
Thanks so much to everyone who came to my Drive In Show at Manmouth Park Racetrack. We live strange times but what a fun show with
@keithalby
@davejuskow
&
@marinayfranklin.
Next Saturday we do it again in Wilkes-Barre, PA. Info at JimGaffigan.com (link in bio).
"Was it ideal? No. Were the laughs as loud? Definitely not. But it was a show.

And for a couple of hours, through my jokes and through the flicking lights and faint laughter and beeping horns, a community was built. Did that community look like a traffic jam? It sure did! But I'll take it."

--Jim Gaffigan, on his July 12th show at a horse track parking lot in Oceanport, NJ 
One of the most interesting new entertainment genres that has emerged over the past several years are podcasts providing commentary on TV shows. Usually hosted by at least one star/insider of the show, these podcasts offer new perspectives and behind-the-scenes commentary along with a regular cadence of new episodes to look forward to. They work equally well if you're just discovering a new show or if you're re-watching something you've previously seen/binged on. These podcasts are proving to be remarkably resilient and immune to other production shut-downs: they can be easily recorded at home which will certainly be an advantage as most new slate fall productions have ground to a halt. Part of what is making this format so interesting is that it appears to be all upside: existing contracts or residuals don't cover this type of content, it's reasonably cheap to produce, and there's no shortage of demand from podcast advertisers. They also make old content less stale and can help old shows find new audiences. It wouldn't be surprising to see cast podcasts start to appear in contract negotiations.

Producers Swizz Beatz and Timbaland joined forces to produce Verzuz - a new twist on the old DJ/MC hip hop competitions. Famous creators are paired up, a loose set of rules and scoring criteria seemingly emerges on the fly, and folks tune in over Instagram live and other streaming channels to watch, comment, and ultimately decide who won. It's all in good fun and creates a wonderfully participatory live event that just wouldn't be possible on any other medium. Anyone can join in -  the much lauded Erykah Badu v Jill Scott match up sported 750k concurrent streams - and the experience sports both the 'you had to be there' cred tracked through Twitter and Instagram conversations and cultural impact via memes like Snoop & DMX shimmying about. Every match up is different and it's clear that the format is evolving with feedback from viewers and artists alike.
In April, Universal rolled out Trolls World Tour simultaneously to theaters already impacted by pandemic closures and to premium VOD. For $19.99 you could rent the movie for 48-hours. This would have likely been a great deal for consumers even without a pandemic to consider: just movie tickets for a family of 4 in a major market would run 3x that, and that's without approaching the concessions stand. Risk exposure to COVID and pay $80+ or watch at home and pay $20 to watch over 2 days? It's clear why consumers are clamoring for PVOD options and after Trolls' results some studios may be too: in its first 19 days, Trolls brought in an estimated $95 million in rental fees. While that alone is impressive, there's also the underlying change in revenue split to consider. For a typical theatrical release the studio and theater owners will split ticket sales 50/50 or 60/40, depending on individual arrangements. In this PVOD scenario Universal is expected to keep ~80% of topline. Napkin math means that to beat that in a theater rollout scenario Trolls would have needed to bring in somewhere in the neighborhood of $150MM in box office. This is roughly on par with what the original Trolls film brought in globally and would have been nearly impossible to match in pandemic times. Trolls' success appears to already have a more lasting impact: Universal and theater chain AMC have agreed to reduce the theatrical window (the amount of time that must pass between a film playing in theaters and any PVOD release) to 17 days. 
And then there was the Travis Scott Astronomical Fortnite tour in April which easily shattered all previous records for concurrent players/attendance. 
It's clear that on the consumer side, while we might be missing some elements of in-person synchronous entertainment there's no shortage of interesting and experimental stuff that creators are putting out. Going all in on DTC allows for a new kind of entertainment experience for consumers: a more direct connection to the creators and content they love. Where do the opportunities and challenges lay for our other two favorite audiences?
Advertisers
Advertisers always want to go where their potential customers are. This expansion of different entertainment options should have them re-thinking and re-focusing their efforts on new channels. The bulk of sponsorship budgets today is tied to in-person events and activations - would ROI be better if these were shifted to virtual sponsorships, direct-to-artist sponsorships, product placement, and more tech-reliant solutions like virtual arena logos or ip-to-geo country/region-specific ads? The challenge as always is which marketing budgets are and should be available for experimenting with new formats in this in-between state. Old metrics from established channels won't readily translate: how would a rating point/GRP match up to Fortnite's concurrent players? To capture value on the emerging side we'll need a new language: new tech stacks for delivery, new metrics to evaluate ROI, and a new understanding of what success means. That won't happen overnight and certainly won't happen quickly for large-budget marketers. The first step doesn't have to be that complex: the pandemic is already forcing a re-evaluation of existing budgets and giving license to experimentation. Our recommendation is to pick 3-5 possible activations in the emerging entertainment category and test. The upfront investment/commitment doesn't' have to break the bank but it'll give you a chance to learn about this DTC entertainment environment.  
Media owners 
While media owners seemingly also have a plethora of options, they, too, are constrained by existing business models, long-term commercial commitments, and horizontal rather than vertical optimization. In a DTC scenario media owners are experiencing a bit of a role reversal: they need to think more like marketers and less like distributors. Consider movie studios: while each individual film a studio produces may command a healthy marketing & promotional budget, those budgets are one-offs. Studios haven't readily embraced long-term audience development so there's little concept of lifetime value, audience-building, or audience segmentation. Could studios also cultivate an audience of aficionados willing to pay a higher price for earlier/exclusive access to marquee content? Imagine if instead of several postponements and a for now mainly international theatrical release for hotly anticipated titles the upcoming Christopher Nolan vehicle Tenet could drop to smaller, more targeted audiences. Like a sneaker release, the first 100,000 viewers could sign up and pay much higher PVOD rates; they could unlock a special virtual viewing with the director or cast members (a typical staple of regular promotion); viewers could be incentivized for getting their friends to buy tickets; every time a certain viewership target is hit that could unlock a new, lower viewing price. None  of these concepts are new and they all exist in other aspects of commerce and entertainment. They just haven't been tried on a major picture yet. The first step in this direction would be to think about audience-building more long-term (vs just in the context of an individual picture) and invest in tools and processes that would enable this. Once again there's no shortage of examples: the band Metallica famously uses Salesforce as their CRM. Warner Brothers has partnered with Christopher Nolan for nearly two decades: what mechanisms can they roll out so they can more readily activate an audience of super-fans? 
Perhaps one of the few upsides of the pandemic (once it's all over) will be the acceleration and  democratization of entertainment access. You no longer have to be in New York City to see a hit Broadway show, at a sold-out music festival, sports game, movie premiere. In a way, we are all now in the room(s) where it happens.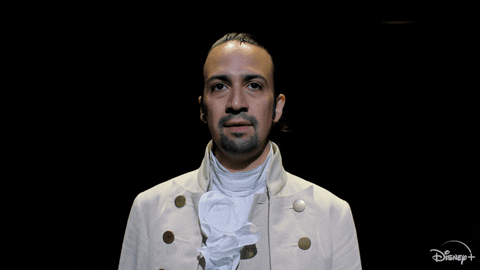 ---
One question: 
It's easy to get excited about new asynchronous, virtual experiences when we don't have much of an alternative. As post-pandemic life begins to normalize in some countries around the world, what will we keep as the new entertainment default from these new experiences and will these new shifts in preference prove to be permanent enough? We're watching movie theaters closely as the first likely bellwether of real longer-term behavioral change. 
---
Dig Deeper:
Office Ladies (adorable and with a stellar guest list that makes you feel like you're watching entirely new seasons of The Office)
Made Women (must-listen if you're rewatching The Sopranos)
---
Each week we curate a selection of the most interesting (free) events in adtech, martech and friends - check it out here. 
Enjoyed this piece? Share it, like it, and send us comments (you can reply to this email).
---
We're a results oriented management consultancy bringing deep operational expertise to solve strategic and tactical objectives of companies in and around the ad tech and mar tech space.
Our unique perspective rooted deeply in AdTech, MarTech, SaaS, media, entertainment, commerce, software, technology, and services allows us to accelerate your business from strategy to day-to-day execution.
Founded in 2015 by Ana and Maja Milicevic, principals & industry veterans who combined their product, strategy, sales, marketing, and company scaling chops and built the type of consultancy they wish existed when they were in operational roles at industry-leading adtech, martech, and software companies. Now a global team, Sparrow Advisers help solve the most pressing commercial challenges and connect all the necessary dots across people, process, and technology to simplify paths to revenue from strategic vision down to execution. We believe that expertise with fast-changing, emerging technologies at the crossroads of media, technology, creativity, innovation, and commerce are a differentiator and that every company should have access to wise Sherpas who've solved complex cross-sectional problems before. Contact us here.