Self-serve ads and the rise of DIY advertising
Why having more choices can lead to more problems
Life used to be simpler for large brands: CMOs would pick their agencies of record, enjoy the wine and dine portion of pitches/client development, sign off on the proposed media mix model and check in on results some 6 months later. Their healthy advertising budgets guaranteed good placements, premium access to the best inventory, and generally a white glove treatment throughout the process. That's not the marketing world we live in today. Today's CMOs need to operate on a much quicker test-place-analyze-optimize cycle, know which of the thousands of marketing technology solutions can give them an advantage, rebalance their media mix frequently, and juggle vendors, agencies, and services providers with the skill of a top performer at Cirque du Soleil. We've gone from a world where advertising could largely be on autopilot where once a course is set you can trust your partners to successfully land the plane to one where to succeed you need to make course corrections on a daily basis, collect and rapidly interpret feedback from every instrument that can measure any aspect of a campaign or activity.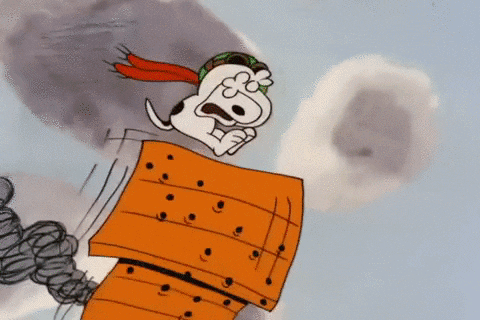 It shows - and not just in short CMO tenure. Consider this market cap comparison and how you'd explain this particular shift to a mid-aughts blue chip CMO:
Our current platform era is really built on the back of self-serve advertising. The Top 5 largest advertising businesses are all built on self-serve revenue (while this chart could use a refresh with more recent data it won't be drastically different but with a slight rebalance in favor of Facebook & Amazon).
It's not just the Top 5: this month TikTok and Hulu both announced the launch of their self-serve offering. Snap launched theirs back in 2017. Retailers are experimenting with creating their own media properties - like Target's Roundel. Others are pursuing vertical plays like TripAdvisor's late 2019 announcement of their self-serve offering (likely to be severely impacted by Covid-related travel clampdown). The explosion of self-serve is driven by one main theme:
making it easier and cheaper to buy advertising ultimately brings in a wide variety of new buyers and creates an advertiser long-tail. 
This has been a boon to smaller advertisers. Whereas a national television campaign would require a 6-figure commitment today's starter budgets on most platforms are in the 10s and 100s rather than 1,000s of dollars. The US Small Business Association recommends that business with revenue less than $5MM should budget 7-8% of top line for various advertising and marketing activities. There are north of 30 MM such businesses in the US alone -- and that's a pretty good-looking TAM platforms are looking at.  
---
Why should you care? 
As we've seen from this month's #StopHateForProfit advertiser boycott, a large advertiser's ability to influence an advertising medium has changed significantly. 
" Last year Facebook earned nearly $70 billion in ad sales from a base of advertisers it says currently numbers around 8 million businesses. In its most recent annual filing (pdf) to the US Securities and Exchange Commission, the company reported 2.89 billion monthly users globally across its family of products, with Facebook alone available in more than 100 different languages. To have any noticeable effect on its revenue would require a truly immense coalition."  -- Marc Bain, reporting for Quartz
These are relatively new waters for blue chip advertisers who are used to having a much more pronounced share of voice not just literally but figuratively, too: if Ford, Coca-Cola, and  Starbucks other Top 100 advertisers decided to pause their TV advertising that would cause network and cable execs to jump into action: this group accounts for ~70% or ~50% of network and cable ad revenue, respectively. The same cohort tracks at ~20% of Facebook's revenue and Q1 2020 saw Facebook report 8 MM advertisers. It's unmistakable that for today's advertising platforms the key client is not a large marketer but a small business. Hello long-tail, goodbye blue-chip.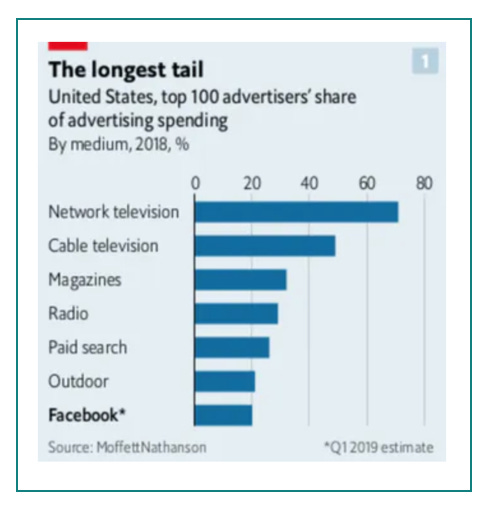 We're presented with a modern advertising platform paradox: 
Self-serve is meant to make everything easier; in reality the proliferation of different self-serve options seems to have the opposite effect.
Therein lies the rub: we're in a strange state of in-between where the tools and processes that large marketers use are overkill for smaller advertisers, and newer ones haven't emerged. As we've seen from the agency vs adtech market cap comparison above, much of the traditional advertising ecosystem really isn't well-configured for this type of transition. Let's break it down based on advertiser size:
Large Legacy Advertisers: Adaptation
The theme for large brands is adaptation: their tens-and-hundreds of millions of dollars of annual investment in enterprise marketing software, agency relationships, and advertising spend now need to contend with in-housing options and decisions of whether it's wiser to build core small teams for specific platforms (rather than fold these under the digital or the grossly misnomered social budgets and execution plans). Reconciling what's working well where and ensuring that the right actionable data set is coming in from all activation channels is becoming a key advantage -- this may lead to full tech stack audits and new considerations around the choice of core data hub technology (one of the main drivers of recent DMP vs CDP debates). 
On the services side it may lead to an audit of existing partner relationships and forging of new ones (fewer agency services bundles, more direct agreements on data clean rooms provisioned and supported by specialized tech vendors). Companies to keep an eye on here are Snowflake (technology behemoth with an increasingly smart and tailored approach for media analysis) and Habu (launched right before the pandemic, led by former Krux/Salesforce veterans who've successfully solved this type of problem before). 
One huge strategic chasm (and hence opportunity) stands out from others: bringing media mix modeling and multi-touch attribution closer together for this cohort. Media mix for large brand budgets remains a once a year exercise, with a half-year adjustment if lucky. This is partly due to legacy processes (it's not easy to apportion and execute on a 9-figure annual advertising budget) and timelines from non-addressable days that would require several months to pass to truly gauge the efficacy of a campaign; media mix modeling and attribution often have different internal owners, too, so bringing them closer together may be running into internal organizational silo challenges, too. Large brands continue to struggle with the 'which budget should this come out of' challenge. One way to solve this is tying a regular and frequent rebalance of the media mix to attribution signals of what's working well. This in turn, would allow brands to unlock more spend in newer channels (and newer platforms). This key technique has been working well for challenger brands (and particularly DTC) who don't have to contend with legacy infrastructure and can operate faster across a smaller number of effective channels. 
Growth/Challenger Advertisers: Multi-Channel Maturity  
Our large brand spotlight may lead you to believe that everything is rosy on the challenger brand side of things: it's not. The theme for this cohort is multi-channel maturity. These brands have largely perfected how to promote within a single channel very effectively. Facebook, Instagram, email lists, and community-building are frequent staples with some high-density area out-of-home advertising sprinkled in for good measure. These advertisers are now running face-first into platform limitations: if you're trying to reach women 18-34 on Facebook there are quite literally millions of other advertisers armed with similar budgets trying to do the same and you're competing with them for every impression. Can expanding to some of these newer/emerging channels return better ROAS than continuing solely with the usual suspects?  
Marketers at these brands have largely grown up in the self-serve era and have limited exposure and experience to other channels or ways of buying advertising. To complicate the challenge further this cohort has largely under-invested in platform-agnostic technology.  Porting what you've learned about your audience and creative from one self-serve platform to another may effectively mean starting from scratch. Step one in this journey is marketers educating themselves on what else is out there, choosing platform-agnostic technology  and learning from the larger marketer cohort. Luckily technology companies are stepping up to the challenge to make previously difficult-to-buy channels easier for marketers used to self-serve as the norm. A few companies worth keeping an eye on Simulmedia (not quite self-serve but simplifies national TV buys), HudsonMX (working on making local TV buys as easy as digital buys), and AdQuick (which makes shopping for OOH & DOOH a breeze; give their billboard cost calculator a whirl when you have a chance - you may be surprised by how cost-effective some placements may be).
Small Businesses: Automation
Small businesses are the focus of every self-serve platform and the theme for this cohort is automation. Think about the day-to-day operations of a restaurant chain or a local bar: they likely won't have dedicated marketing staff on board and their budgets are small and tied to performance. A rising opportunity in this space are tools specifically designed for the 'amateur' marketer - an 'easy button' that would, in a couple of taps create the creative, let you test different versions, balance and optimize budget across several different channels and generally let the business owners focus on operating the business while someone else takes care of the marketing (the very type of relationship with large holding company agencies that the biggest advertisers used to enjoy in the pre-self-serve era). Vertical-specific solutions may make a lot of sense here. Rather than thinking through whether or not advertising on TikTok makes sense for your real estate agency or if TripAdvisor is a good fit for your restaurant let someone else (ideally an algorithm) figure it out for you. Companies doing interesting things in this space include Eulerity (created the 'easy button' platform for franchise marketing) and Smartly (a creative optimization platform built to automate the creation and placement of high-performing social ads -- think the second coming of DCO).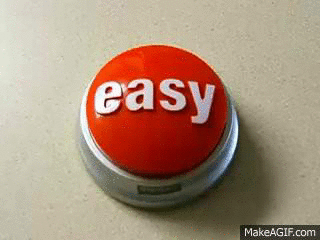 ---
One question:
Each new self-serve platform entrant now also needs to message and articulate their unique value proposition to their desired advertiser audience. How do you differentiate across all three categories of advertisers (what sounds attractive to a mom-and-pop shop won't work for Coca Cola)? Unlike with the more established channels, agencies won't necessarily present a shortcut here. Ask yourself,
does your team have the necessary skills and more importantly budgets to go and acquire its advertiser audience?  
---
Dig deeper: 
Various self-serve options: 
A small selection of companies to keep an eye on: 
---
Each week we curate a selection of the most interesting (free) events in adtech, martech and friends - check it out here. 
Enjoyed this piece? Share it, like it, and send us comments (you can reply to this email).
---
We're a results oriented management consultancy bringing deep operational expertise to solve strategic and tactical objectives of companies in and around the ad tech and mar tech space.
Our unique perspective rooted deeply in AdTech, MarTech, SaaS, media, entertainment, commerce, software, technology, and services allows us to accelerate your business from strategy to day-to-day execution.
Founded in 2015 by Ana and Maja Milicevic, principals & industry veterans who combined their product, strategy, sales, marketing, and company scaling chops and built the type of consultancy they wish existed when they were in operational roles at industry-leading adtech, martech, and software companies. Now a global team, Sparrow Advisers help solve the most pressing commercial challenges and connect all the necessary dots across people, process, and technology to simplify paths to revenue from strategic vision down to execution. We believe that expertise with fast-changing, emerging technologies at the crossroads of media, technology, creativity, innovation, and commerce are a differentiator and that every company should have access to wise Sherpas who've solved complex cross-sectional problems before. Contact us here.