Discover more from Sparrow One
The one thing not to miss every month
Over 1,000 subscribers
The Quibi that could have been
How the wrong go-to-market strategy can doom an ok idea
"We're a startup" Meg Whitman, Quibi's CEO, said on stage during her keynote at the IAB Annual Leadership Meeting earlier this year in Palm Desert, 2 months before the fledgling service's formal launch. It's a curious way to think of and describe a company that by that point had raised $1.75 billion and had no shortage of star power behind it. The brainchild of Jeffrey Katzenberg, a media and entertainment legend, Quibi's CES keynote featured a who's who of dream launch partners: from Google Cloud on the technology side, various creative A-listers, through Pepsi on the advertising side, to T-Mobile's president and COO Mike Sievert enthusiastically announcing they will roll out Quibi to their 68 million customers. On stage in Las Vegas he professed:
"Our customers have an insatiable demand for what Quibi is going to bring"  
Fast forward a few months when the reception to Quibi can, at best, be described as lukewarm. In the first weeks of Quibi's life mobile analytics company Sensor Tower reports only around 2.3 million downloads. The app remains conspicuously absent from any of the top app download charts within a month and change of its very public launch. This type of mobile download result for a much hyped mobile-only app doesn't bode well and certainly doesn't convey the pre-launch enthusiasm that Quibi and their partners were expecting. Dorothy - we're very far from insatiable demand.  
Jeffrey Katzenberg identified an interesting culprit in a post-launch interview for the New York Times: 
"I attribute everything that has gone wrong to coronavirus. Everything. But we own it."
As tempting as it may be to blame the virus and other externalities, the call was coming from inside the house all along. Mobile-first competitors like TikTok and Snapchat experienced explosive growth during the Coronavirus Pause clearly demonstrating that the virus had little to do with how users consumed media during this time. In the spirit of Quibi's content brevity their go-to-market challenge can be summed up in 10 words:
Quibi brought a Hollywood go-to-market strategy to a TikTok world. 
Mobile companies (and startups in general) tend to be scrappy in their customer acquisition efforts: they focus on performance advertising, utilize digitally native & mobile-first platforms, and whenever possible rely on earned media, incentivized word-of-mouth marketing, and users' own social graphs/contact lists to extend their reach. The emphasis is on measurable, mainly self-serve channels where creative and message iterations happen quickly: in days, if not hours. 
Quibi on the other hand chose a different path - to date, their extremely generous estimated $470 million marketing budget seems to have mostly been levied on top of funnel, above-the-line marketing. There was a confusing Super Bowl ad which cost $5.6 million just for the media buy - or an entire solid Series A investment for an actual startup; there were also pricey ads around the Oscars and similar activities that all lean towards the non-addressable, harder to measure, harder-yet to iterate on channels and formats. 
The pitch to advertisers on the surface seemed to be a runaway success: 6 months before launch, Quibi announced they sold out their entire first-year inventory to the tune of $150 million of upfront commitments from an intentionally small number of Tier-1 brands. Not bad for a new, unproven advertising format and platform. However, that really comes out to only about a $15 million commitment per brand - at the level of annual spend these brands have, that's slightly more than an experimental budget. 
The pitch to users, on the other hand, fell flat. Quibi's own numbers from early May listed 1.3 million active users about 30 days into what would have been a 90-day free trial. If people don't seem to be buying you when you're free, can you realistically expect them to buy when you shift to paid? In Hollywood terms, this is pointing towards the classic signs of a box office flop.
---
Why should you care?
It's not often that we get such a vivid and public example of how critical the initial go-to-market strategy can be. If the GTM is wrong even an extremely generous 9-figure marketing budget will not be enough. Launching a new media format is never easy but Quibi's in-market execution left a lot to be desired and resulted in multiple truly head-scratching efforts. Let's break down some concrete things that they could have done instead and how a different go-to-market strategy could have yielded significantly better results. There are 5 core challenges that every go-to-market strategy needs to address and we offer up 14 prescriptions for what they could've done differently. Let's go!
Challenge #1: what is it?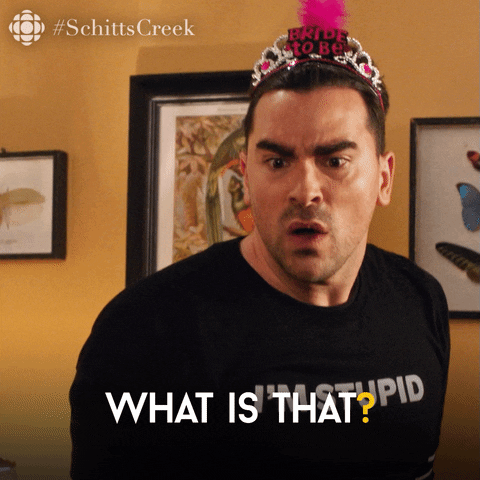 Whenever you're tackling the launch of a new product or service, step one in a go-to-market strategy is to define what that product is in the market that you're entering. Quibi simultaneously aimed to be:
a content creation and distribution service for short-form, mobile-first content,

a new entertainment format (enter their lauded Turnstyle: a portrait-to-landscape format that reacts to how you hold your phone in your hand),

a new brand-safe advertising walled garden,

a premium mobile-only video subscription, and

a destination for A-list talent eager to explore both new creative and contractual formats.
The first challenge comes with articulating how this new and unique approach to storytelling and content quality is worth not just the time and attention but also the $5 or $8 per month. In a world of content abundance, content alone is not enough for a winning proposition. Per analysis from Parrot Analytics, content quality may have been part of the problem: in spite of Quibi's claims of excellence, their shows appear to be registering as squarely mediocre:
What they could have done differently:
Created a free, entirely ad-supported tier and used it to drive awareness and interest in new shows. Nothing lets you see if a service is worth spending money on like trying it out. If Quibi's Turnstyle or similar aspects of their tech were such a differentiator, their GTM should have focused on getting this feature in the hands of as many potential users as possible. Perhaps only the first few minisodes of most shows are in the free tier: if you really like the content and want to watch an entire season, you can subscribe. A paywall right out the gate on both a new format and new content is a tall order even for hotly anticipated, beloved brands (hi there, Disney+). 

Instead of explaining the platform concept via pricey ad buys (hello again, Super Bowl) they could have tried to hype the content. With short-form, airing a 15 or 30s pre/mid-roll ad or showing a freeze-frame from a show inviting users to learn more about it in digital ads could have raised awareness and interest in their content roster and created cultural moments ahead of launch. Where are the memes of Quibi content?

Their roster of partners is impressive yet they seem to have given little thought to cross-promotion. One of Quibi's 10 first-year advertisers is Taco Bell - presumably they share an audience, so why not explore opportunities to tie in-store promotions to a Quibi download? What would CAC look like if you could get a free taco with every order if you showed the cashier you've completed a Quibi episode? Innovation doesn't have to be limited to content formats but should extend to customer acquisition as well.
Challenge #2: who is this for?
Quibi's audience falls into one of three groups: talent, advertisers, and users. Quibi's generous production budgets and novel distribution deals as well as Mr. Katzenberg's star power were enough to draw the likes of Stephen Spielberg, Chrissy Teigen, Jennifer Lopez, Liam Hemsworth, Kevin Hart, Reese Witherspoon and many other household names. The pitch to advertisers also seems to have been successful: Quibi chose to limit the initial advertising partners to 10 and signed up exclusives with Progressive, Discover, General Mills, Procter & Gamble, AB InBev, Taco Bell, Pepsi, T-Mobile, Google and Walmart. That leaves the users:  
"Our platform is for 18-to-44-year-olds, and very, very targeted at the 25-to-35-year-old millennial"
The US will have about 72MMM people in this demographic in 2020. The media diet of this cohort is well-understood: while they like television content, they increasingly don't watch it on traditional linear TV. As digital natives they're more open to platforms and newer formats from Youtube through Facebook/Instagram to Snapchat. They've grown up in the heyday of social media and influencer culture and turned Netflix, Youtube, and Uber into verbs. If this is the core audience you're going for, a Super Bowl buy doesn't seem to be the place you'll find it.
What they could have done differently:
Focus on marketing efforts that are known to work with your core audience. Any marketer knows that sometimes the specific media buy you're making is meant to demonstrate that you're actually in business; that's the theory that seems most likely to justify Quibi's linear TV spend. Perhaps it was aimed at its investors, advertisers, and other supporters who are less likely to be hanging out in channels where Quibi's core audience hangs out in. Vanity advertising isn't all bad as long as you make sure you're still targeting your actual audience and this is where Quibi seems to have underdelivered. 

Leverage word of mouth and incentivize users to share content and the app across their networks. Perhaps the biggest gap in Quibi's rollout was the inability to share or even watch short clips of Quibi content outside of Quibi itself. For such supposedly snackable content there were no reaction gifs to share ahead of premiers, few ways to tie A-list creators to the content they were rolling out, and really no way to build interest in the content ahead of launch. Even people who generally like to sign up for new things don't want to be buying a cat in a bag. 

Extend the definition of your core audience. Jeffrey Katzenber clearly saw a generational opportunity to invent a new medium and content format. Why limit to a narrowly defined audience, then, that's oversaturated with short-form, digitally native, mobile-first content? Could a slightly different content and marketing strategy bring in the folks who are more used to paying for content (through cable and premium cable)? HBO stands for Home Box Office; should Quibi have tried to conceptually position as the Phone Box Office? 
Challenge #3: how do you monetize it? 
As the great unbundling of video content continues, a fair question to ask is how many paid content subscriptions does a typical user support? While a $5 per month fee may seem low, once you add on a few services the pricing starts tracking closer to old basic cable numbers. Like with written content, the reality for most users will be that they'll pay for <5 individual entertainment services. With content in abundance, you won't really miss a specific movie or show unless you have very compelling cultural reasons to tune into it. Quibi starting with a walled garden only approach seems to ignore the way other walled gardens have gone to market: you need to convince everyone that the garden is worth visiting, open the gates, lure everyone in, and then build a wall.  It reminds me of the 'if you build it they will come' quote from the 1989 film Field of Dreams, in which a farmer (played by Kevin Costner) hears voices urging him to build a baseball field so that the legendary 1919 Chicago White Sox team would appear and so would an audience willing to pay to see them. Quibi built a field, but for a sport no one knows how to play, and then essentially wanted to charge fans to come watch it. 
What they could have done differently:
Rolled out a full freemium ad tier instead of the ad-supported subscription. This would have opened up the platform to more advertisers than the artificially-restricted 10 partners. They clearly had a compelling pitch to marquee brands and a whole new ad format to promote: this could have bought more runway for targeted viewer acquisition campaigns. 

Lowered the drawbridge on their walled garden and enabled content sharing across platforms. They could have cut 30-60 second snippets tailored for sharing on YouTube, Facebook, and other relevant platforms that would then point back to Quibi to complete watching (requiring an app download and a basic registration). Or they could have thought outside the box completely with something like this:
Challenge #4: who is my competition? 
In pre-launch interviews about the service, Mr. Katzenberg made a point of illustrating that Quibi isn't participating in the much hyped streaming wars. Their competition weren't the paid premium streaming services like Netflix, Disney+ or HBO Max (which had a similar go-live date). The distinction that Mr. Katzenberg drew was that while other streamers were competing for the television set and living room, Quibi was competing for the phone. It may have come as somewhat of a surprise then that, when asked about TikTok's growth during the pandemic, Mr. Katzenberg immediately compared his company to Netflix, deflecting from the TikTok comparison.  When you hear Hollywood A-list, production budgets of $100,000 per minute, and premium subscriptions who are the first competitors that come to mind? This was another indication that Quibi seemed to be conflating business models and not readily understanding the breadth of their competition; if Quibi is fighting for the phone, it's reasonable to assume that its competition isn't limited to just video content but other forms of entertainment, too. Not only are you effectively competing with the streaming giants but you're also going up against casual mobile gaming, while your go-to-market strategy doesn't effectively address either competitive group.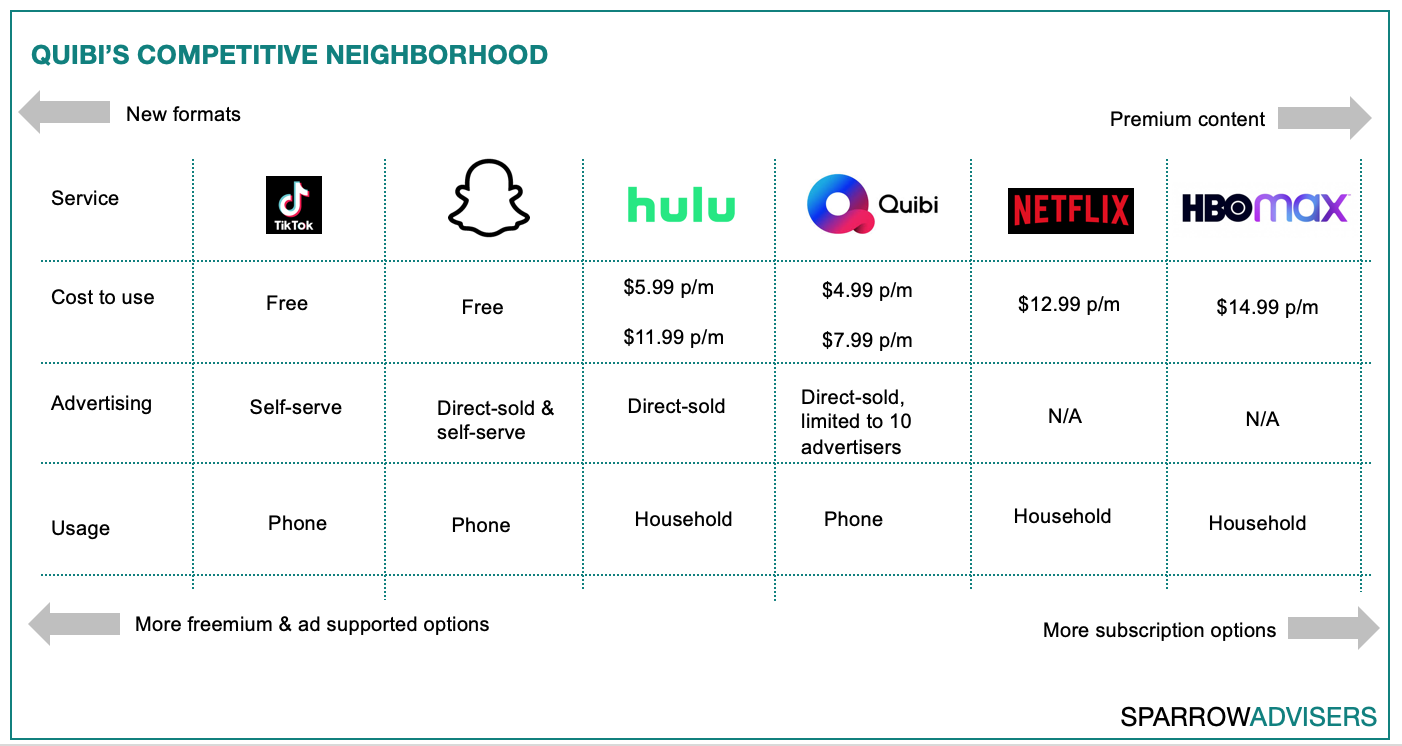 What they could have done differently:
Once again the obvious recommendation is to explore a freemium model. If you're going to compete in the mobile only space and your target competitors are social platforms, then launching with a paid-only offering into a crowded space doesn't seem like the best approach. 

If streaming platforms weren't competitors, and Quibi focused exclusively on mobile content, could they have pursued partnerships and blended subscriptions with other services to augment their mobile as a platform? Their T-Mobile deal is a good example of this - T-Mobile gives most of its subscribers a year of Quibi or Netflix for free; after that first year (some time in 2021), you can choose one or the other to keep for free on your account. 

Re-evaluate your competitive space and adjust your go-to-market. When even your launch partner (T-Mobile) puts you in a 'choose Netflix or Quibi' category, continuing to make the argument that streaming giants aren't your competitors is out of touch. Unlike Quibi, Netflix had a clear competitor (Blockbuster), a killer feature (no late fees), and a honed GTM when it launched (albeit in a simpler media market than today's). If Quibi recognizes that they're perceived in market as a streaming service, is their much touted portrait-to-landscape format Turnstyle the killer feature that will drive customer subscription and loyalty? 
Challenge #5: what is the experience like?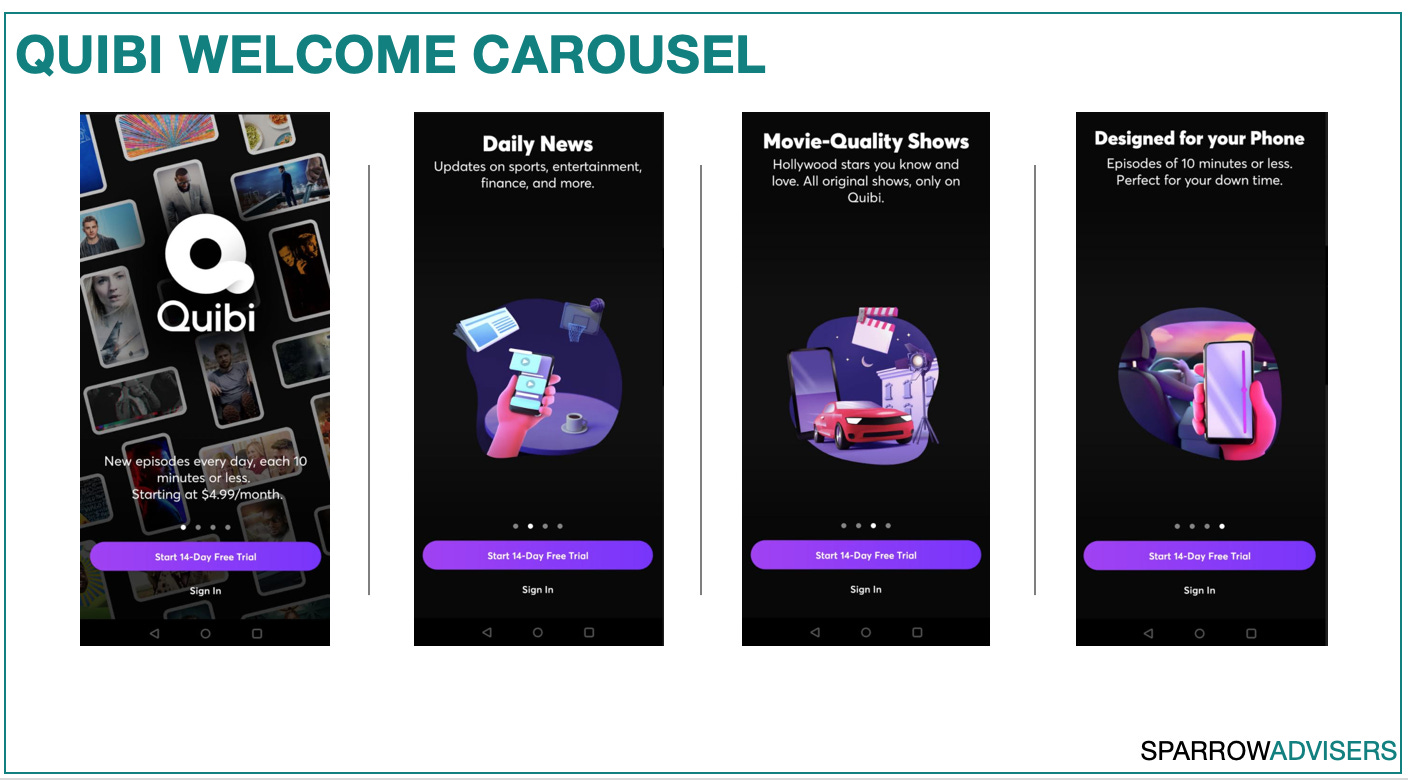 If you've downloaded Quibi your initial reaction to using it is likely mostly positive - the sign-up flow is fairly smooth even if the initial splash screens leave something to be desired (instead of generic icons why not use the star-power of its A-list talent here?). The player works generally well and the cards layout for browsing shows is intuitive for swiping and tapping. So far so good. 
Once you start watching content it doesn't take long to start getting repetitive ads. This seems by design -- Quibi restricted their launch ad partners to 10 advertisers with 24 brands. The only ad unit available is pre-roll that runs before an episode so a brand gets to effectively sponsor each episode of a show. Given the low number of advertisers, in practice this means that with moderate watching you're seeing the same ads over and over and over again. After two episodes of The Dangerous Game (starring A-listers Liam Hemsworth and Christoph Waltz) I was tired of Taco Bell. 
The biggest gap is the mobile-only content with limited sharing ability. You can't take screenshots in the app. You can't (yet) watch on TV, although Quibi is working on fixing this: which means you can't really watch this content with someone else. Is the expectation then that every person in your household needs to sign up (and pay) for their own Quibi account? 
What they could have done differently:
Enabled content sharing and simultaneous, synchronous watching. If Quibi's main competitors are social platforms rather than streaming services then focusing on the shareability of content and collective viewing experience could have helped with customer acquisition. Instead they seemed to have imagined a very solitary content consumption experience; this seems a hard sell for Hollywood-type content. If folks can't watch and experience this content together, and can't share it easily, how can it become culturally relevant?    

Clarified how many people can use the same subscription. In the paid content pantheon, $5 per month can get you a lot of viewing mileage. How many (mobile) devices can that support? 

Put muscle behind identifying and promoting a culturally-relevant hit. For all the talk of quality content, superb product value, and A-list talent the content seems to have solicited a collective 'meh' from audiences. Consider this Parrot Analytics audience demand report for one of Quibi's most high-profile shows at launch: Chrissy's Court: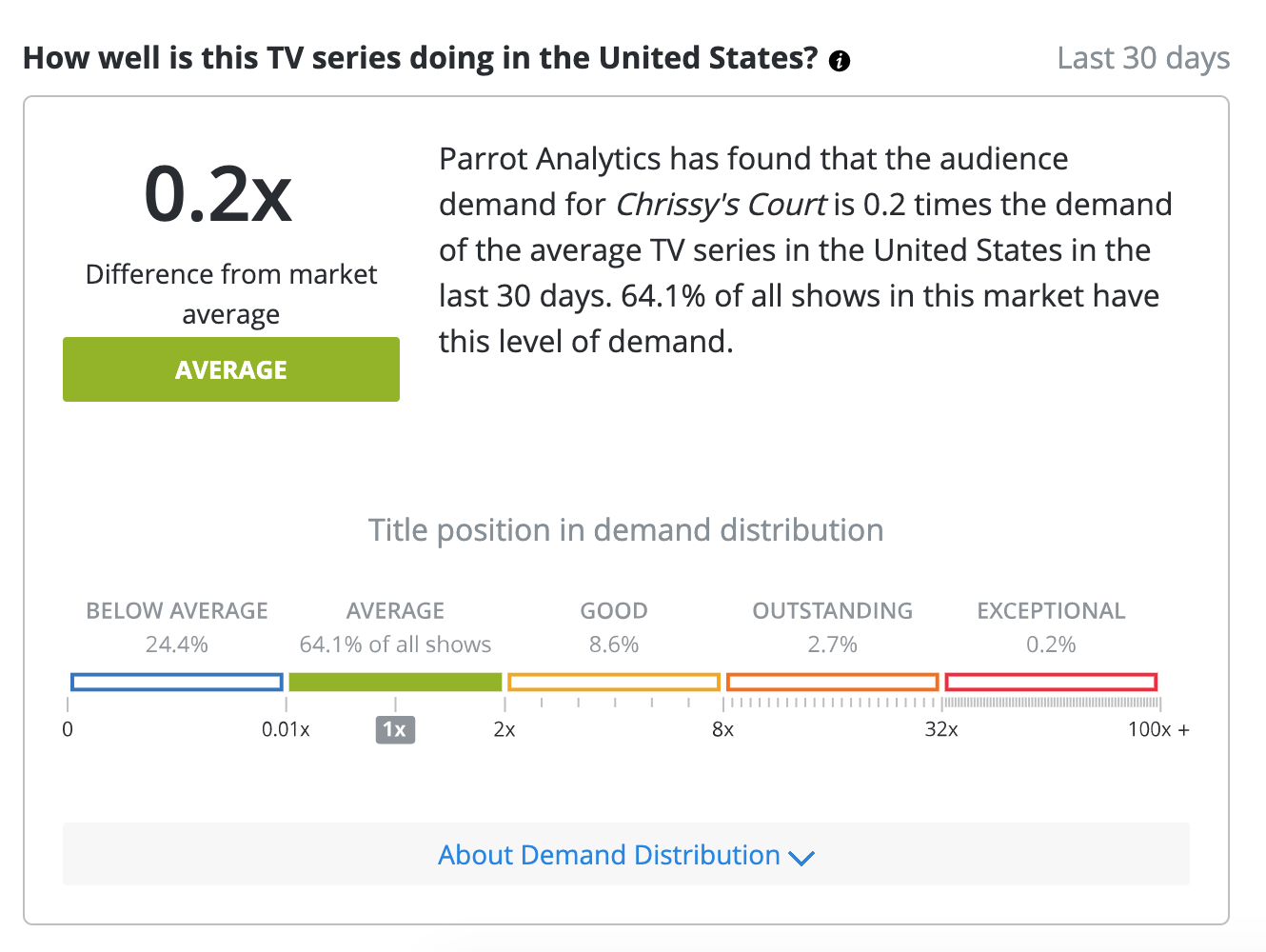 The big question here is if this show could have found a more vocal and engaged audience if Quibi did more direct, audience-based marketing to promote it. The show's host Chrissy Tiegen has an extremely engaged social media audience that just doesn't seem to have translated to interest in Quibi. Rather than Superbowl ads touting concepts over content, promoting show snippets, cultivating email lists of interested fans, curating watch parties, investing in tweet-alongs, and similar direct tactics could have pushed this and other marquee shows to the good/outstanding rankings. 
"We're a start-up," Mr Katzenberg also echoed in a Vulture explainer.  "As soon as you go out and try to be all things to all people, you end up being nothing to anybody."
Ironically, that's precisely what their go-to-market strategy achieved. Keep that in mind the next time a company with $470 million to spend on marketing comes along, startup or not: if the fundamentals of a go-to-market strategy are flawed, no amount of money poured on top can fix it without an actual re-evaluation of strategy.
---
One question: 
Quibi is an extremely well-capitalized company run by experienced people with many successes under their belts. What is the tell-tale sign of a GTM strategy that needs adjustment and how did they miss it? In Quibi's case it's the dismal user numbers; did they have to wait to see those to try to adjust? How can you spot a GTM that needs adjustment in your own company before you've spent too much money pursuing the wrong course?
---
Dig Deeper:
---
Each week we curate a selection of the most interesting (free) events in adtech, martech and friends - check it out here. 
Enjoyed this piece? Share it, like it, and send us comments (you can reply to this email).
---
We're a results oriented management consultancy bringing deep operational expertise to solve strategic and tactical objectives of companies in and around the ad tech and mar tech space.
Our unique perspective rooted deeply in AdTech, MarTech, SaaS, media, entertainment, commerce, software, technology, and services allows us to accelerate your business from strategy to day-to-day execution.
Founded in 2015 by Ana and Maja Milicevic, principals & industry veterans who combined their product, strategy, sales, marketing, and company scaling chops and built the type of consultancy they wish existed when they were in operational roles at industry-leading adtech, martech, and software companies. Now a global team, Sparrow Advisers help solve the most pressing commercial challenges and connect all the necessary dots across people, process, and technology to simplify paths to revenue from strategic vision down to execution. We believe that expertise with fast-changing, emerging technologies at the crossroads of media, technology, creativity, innovation, and commerce are a differentiator and that every company should have access to wise Sherpas who've solved complex cross-sectional problems before. Contact us here.
---