Will AT&T sell off Xandr/AppNexus?
Fantasy M&A, telco edition
<We're gearing up for Labor Day weekend in the US and #SparrowOne was going to take a week off, but alas: the Wall Street Journal reported early this week that AT&T may be hanging a 'for sale' sign on their recently acquired adtech and analytics division Xandr. So here we are, for another (emergency) episode of Fantasy M&A with a small programming note: one of our founders, Maja Milicevic, is a former AppNexian. She moved on from the company in 2013 and is the proud owner of many orange-colored AppNexus hoodies and other assorted swag.>  
---
AT&T acquired AppNexus in August 2018 for $1.6 billion - exits of that size in adtech are few and far between and comparison of that other big New York City adtech exit back in 2007 when Google bought DoubleClick quickly came to mind. While Google has turned DoubleClick into a reliable revenue engine, AT&T appears to have changed its mind and ambition only two short years in. 
A lot has happened in those two years. The advertising landscape has increasingly been consolidating towards walled gardens: per eMarketer research 3 companies -- Google, Facebook, and Amazon -- commanded 68.1% of all US digital ad spend in 2019. In parallel, the much anticipated shift of budgets from linear TV into digital finally crossed the Rubicon in 2017. Digital spending not only overtook TV, but now exceeds total traditional ad spending, thus increasing the importance of connected television (CTV) solutions which can mobilize former linear TV budgets. In those same two years Xandr has tried to transition from mainly a display platform to a video one, while simultaneously integrating AT&T's media supply (e.g. all Warner assets), on-boarding other smaller broadcasters (e.g. Altice, Frontier), building out a robust buy side platform, creating their contender for a universal ID (tied to AT&T's subscriber data), and generally communicating to market all that's new (their DSP: Xandr Invest, their SSP: Xandr Monetize, their video marketplace: Community). If anything, that vision might have been too ambitious for today's market reality. 
What made AppNexus an attractive buy for AT&T 2 years ago?
There's a reason why AppNexus always had its own designated box on the Lumascape. At the time of acquisition AppNexus was a truly independent exchange: unlike Google, they had no interest in selling their own media and served as pure technology pipes. With the acquisitions of publisher ad server OAS in 2014 and yield management solution Yieldex in 2015, AppNexus was building into a strong publisher stack with global presence. In parallel, AppNexus built a strong solution for advertisers making buying more streamlined for a reported 177,000 brands at the time of acquisition.
By consolidating the previously independent technology layer and adding a layer of their own exclusive media to sell, AT&T + Xandr (née AppNexus) were in a good position to become another serious walled garden challenger. With attractive brand-safe digital & CTV offerings AT&T could leverage brand relationships and compete directly with Google/YouTube, Facebook, and Amazon. On the buy side, AT&T also spends a considerable amount of money to advertise its services to consumers: in 2019 they were the 2nd largest US advertiser, spending $5.6 billion across all of their properties (only Comcast, another telco, spent more). 
The vision was compelling, as Brian Lesser, the then-CEO of AT&T's advertising and analytics division described it to TechCrunch:
"Ad tech unites real-time analytics and technology with our premium TV and video content. So, we went out and found the strongest player in the space. AppNexus has scale of infrastructure, advanced technology and diverse talent. The combination of AT&T advertising & analytics and AppNexus will help deliver a world-class advertising platform that provides brands and publishers a new and innovative way to reach consumers in the marketplace today."
Challenges: 
While that strategy still makes a lot of sense on paper, operating an adtech business day-to-day is very different than operating a telco; with notable recent executive departures from Xandr's senior executive team, AT&T may be looking at its assets and wondering whether the adtech layer is really a must-have for them. For a telco, buying an ad tech company is akin to trying to integrate a whole different type of business: with different day-to-day ops, leadership styles, organizational structures, and team make-up. The scale at which a telco like AT&T operates is orders of magnitude different than that of even the most lauded adtech companies: AppNexus' 400 engineers are a blip to AT&T's ~240,000. AppNexus' revenue which at time of acquisition was in the $350MM annual range, and Xandr's has since grown at a 30% YoY rate that's hardly a drop in the bucket to AT&T's 2019 revenue of $181.2 billion. If you've managed P&L at a large company you know that unless a division is showing significant revenue contribution it's more difficult to attract internal resources and even more challenging to position it as the future of the core business. If the entire Xandr division vanished into thin air today, it would likely take AT&T weeks if not months to notice. 
Core questions to ask: 
Hypothetically speaking, if AT&T does sell off Xandr what would actually be on sale? It's no longer an independent technology like AppNexus was: does a sale also bring the decoupling of media assets (incl. Warner) from the technology stack? 

Does AT&T move their own advertising spending to another platform like Google, or The Trade Desk? 

Who gets to sell Warner Media and other exclusive AT&T inventory? If part of the deal means Xandr maintains access to the AT&T/Warner business, it could make the deal more interesting and attractive. 

What happens to Xandr's international footprint and client base? Is that a prime candidate for a spin-off and return to the AppNexus brand? 

With recent executive team exodus from Xandr what's the leadership team that a potential acquirer would be getting? 
And now for the fun part.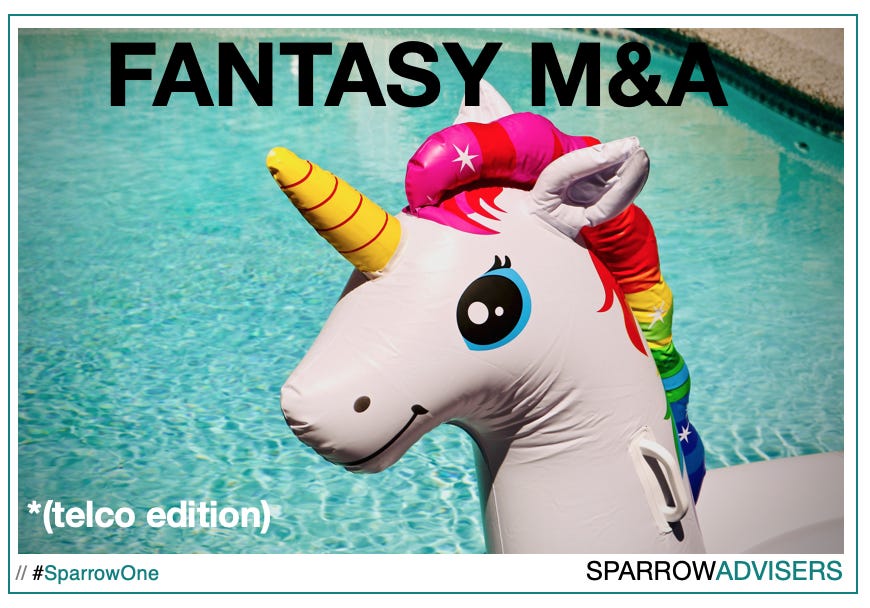 Fantasy M&A
Let's assume AT&T is serious about selling. What types of companies would be in market for this type of solution and could afford the purchase? 
Other telcos: If the underlying 'new walled garden with unique supply' strategy is attractive, then other telcos could step in to pick up the asset. None need to: Verizon has its own solid stack (including Yahoo/AOL), Comcast has Freewheel, and T-Mobile is busy with the Sprint merger and smaller, mobile-focused acquisitions (like PushSpring). The only obvious exception here might be Singtel who might be predominantly interested in Xandr's non-US assets.  
Private equity: If somehow Warner assets remain in play, a PE aggregator of CTV options could make sense: possibly something along the lines of grabbing Xandr and beefing up the sell-side through a merger with someone like Magnite (Rubicon+Telaria). There are a lot of unknowns and assumptions here, so this entire buyer category is more in the 'could' than 'should' column. 
Another walled garden: It would be somewhat poetic if Google bought the former AppNexus, thus solidifying their claim to best acquirer of New York-based adtech companies ever (plus, many key AppNexians came from DoubleClick and Google, so there's a history arc there to follow). If Google needs to split up in anticipation of the DOJ antitrust case, buying Xandr and consolidating an adtech offering around it wouldn't be a bad shortcut. The other candidate here could be Amazon: they've already picked up Sizmek for a song and likely don't need the tech. However, at the rate of growth of their advertising business, picking up ~1,800 adtech employees at once may be worth the asking price.  
Commerce: Walmart is an increasingly popular candidate in our Fantasy M&A discussions thanks to their excellent execution and willingness to challenge Amazon on multiple fronts. With Xandr, Walmart would get an instant ad business in a box. Shopify would be another interesting candidate: the e-commerce platform's clients tend to heavily rely on Facebook and Google for advertising; expanding beyond those two usual suspects and unlocking other types of inventory that used to be more challenging to buy (like CTV) could be an interesting proposition on top of commerce. 
The Trade Desk: as always, TTD seems to be in a category of its own here, too.  As a true leader on the buy side and a beacon of hope for every other adtech business, TTD might be poised for a shot at world domination. As the most successful adtech IPO, a $20+BB market cap, and a truly independent business they could consider buying up what's left of the industry's other truly independent platform. Xandr would give TTD access to the sell side. This fantasy conglomerate can then mount a real independent competitor to walled garden platforms. 
Whatever happens, Xandr seems poised for a bit of an identity crisis. They'll have to quickly figure out how to define and articulate an independent path again, after spending the better part of two years working to build a walled garden foundation for AT&T. In the words of Forrester principal analyst Jim Nail, speaking to AdExchanger: 
"As long as it's affiliated with another media company, there's going to be that perception of conflict of interest. Xandr under WarnerMedia, or even sitting next to WarnerMedia, is challenging to grow outside of the WarnerMedia world." 
---
One question:
Xandr's tagline is 'make advertising better'. If it were to revert to an independent platform, is that even possible to do with non-walled-garden inventory? 
---
Dig deeper:
---
Each week we curate a selection of the most interesting (free) events in adtech, martech and friends - check it out here. 
Enjoyed this piece? Share it, like it, and send us comments (you can reply to this email).
---
We're a results oriented management consultancy bringing deep operational expertise to solve strategic and tactical objectives of companies in and around the ad tech and mar tech space.
Our unique perspective rooted deeply in AdTech, MarTech, SaaS, media, entertainment, commerce, software, technology, and services allows us to accelerate your business from strategy to day-to-day execution.
Founded in 2015 by Ana and Maja Milicevic, principals & industry veterans who combined their product, strategy, sales, marketing, and company scaling chops and built the type of consultancy they wish existed when they were in operational roles at industry-leading adtech, martech, and software companies. Now a global team, Sparrow Advisers help solve the most pressing commercial challenges and connect all the necessary dots across people, process, and technology to simplify paths to revenue from strategic vision down to execution. We believe that expertise with fast-changing, emerging technologies at the crossroads of media, technology, creativity, innovation, and commerce are a differentiator and that every company should have access to wise Sherpas who've solved complex cross-sectional problems before. Contact us here.