The New Marketing Infrastructure Layer
What comes after the marketing suite?
Cloud technology company Snowflake went public in one of the most anticipated IPOs in September 2020: It was the largest-ever public debut for a technology company and raised $3.36 billion and more than a few eyebrows. Is data storage hot again? Although some of Snowflake's capabilities are used by marketers, the company isn't exactly a household name yet to this prized constituency.
In October, cloud communications platform Twilio paid $3.2 billion for customer data platform Segment in a move that could pit the company against Salesforce and Adobe to be the link between the enterprise stack and customer data.
What do these seemingly disparate companies have in common? There's an emerging pattern.
These recent developments remind us of where we were toward the early '10s, roughly a decade ago, when Oracle, Adobe, and Salesforce began mounting their big moves into marketing technology.
---
What made marketing and advertising such an attractive industry for technology giants?
First, there's a lot of money sloshing around; global ad spend clocked in at around $475 billion in 2010, and was expected to exceed $700 billion in 2020 (prior to the pandemic), per data and projections from eMarketer. Second, these were still very manual and siloed industries that had resisted automation in favor of relationships and white-glove managed services.
Perhaps most importantly, this was now the era of big data, driven by growing adoption of digital advertising. Brands, agencies, technology intermediaries, and publishers were increasingly aware that they needed to interpret performance and insights from their digital efforts. To do that, they now needed infrastructure that behaved differently than what IT departments were accustomed to providing. CMOs emerged as new buyers of technology: With software's shift to the cloud, marketers weren't going to wait for the standard IT lifecycle of deploying new solutions and began to flex software budgets themselves (previously the purview of the CIO and the IT organization).
Tech giants recognized the industry's growth potential and understood that technological optimization could yield outsize returns when applied to marketing's then-manual nature. Emerging addressable channels of marketing would likely benefit from a one-stop-shop suite approach, rather than dealing with the complexity of buying and maintaining many individual point solutions.
Enter the marketing suite: the one tool for most channels and use cases, under one price, and one master services agreement. Procurement departments rejoice!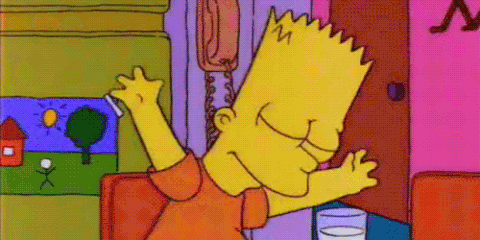 ---
The pivotal acquisitions of the marketing suite era
They made their entry into advertising and marketing via acquisitions – which, at the time, might not have revealed the full ambition of each tech provider. Since a decade has passed, some of these may have faded in collective memory, but their impact is at the core of each suite's in-market success today.
Adobe in the late aughts was known for creative tools such as Photoshop, Illustrator, InDesign, and the old Macromedia suite (yes, Flash and Dreamweaver fall in here) and the PDF format. New CEO Shantanu Narayen had already begun setting the stage for content and app monetization when it bought analytics company Omniture for $1.8 billion in 2009. In early 2011 it set its sights on the marketing world through the acquisition of data management startup Demdex – now Adobe Audience Manager (an acquisition your Sparrows experienced firsthand).

What problem did Demdex solve? It presented Adobe with a "data infrastructure" acquisition and the first connective tissue between previously reporting-only, non-actionable web analytics data sets and audience-specific, advertising-oriented actionable ones. This acquisition set Adobe on a path to subsequent deals that would round out its Experience Cloud offering: a $859 million line of business in 2019, sporting 24 percent year-over-year growth.

In 2006, Oracle bought Siebel Systems, which would become the core of its enterprise marketing software. But it wasn't a fit for the cloud, an area Oracle was racing to dominate, alongside Salesforce and other tech giants. Oracle's purchase of Eloqua in 2012 for $871 million, which some called a "do-over" for its ill-fated Siebel acquisition, put Oracle firmly on a journey to its future marketing cloud. Although Eloqua was a B2B shop, it illustrated Oracle's bet that marketing would become more automated, real time, relationship-driven, and integrated with other business processes, such as sales, support, and service.

In December 2013, Oracle paid $1.5 billion for Responsys, the B2C yin to Eloqua's B2B yang. The deal beefed up Oracle's cross-platform marketing chops and enabled its clients to target prospects along the increasingly complex customer journey. By this point, the tech giants were scooping up marketing automation companies right and left; During the summer of 2013, Salesforce bought ExactTarget (more on that below) and Adobe picked up Neolane. SAP AG had also bid on Responsys but lost to Oracle. Shares for Responsys rival Marketo surged after the Responsys deal on speculation that it would also be acquired, which it was, but not until 2018, when Adobe bought the company.

In September 2012, SaaS and CRM juggernaut Salesforce introduced its Marketing Cloud, an integration of two social marketing acquisitions: Radian6 and Buddy Media. Then it went really big with its $2.5 billion purchase of ExactTarget in June 2013, which many viewed as a direct and necessary response to Oracle's December 2012 Eloqua acquisition. ExactTarget, which had itself acquired B2B marketing automation platform Pardot less than a year prior, would become the Salesforce Marketing Cloud, immediately establishing Salesforce as a major email marketing player. Both Oracle and Salesforce chose email as the core step toward building a more comprehensive suite.

Salesforce continued bolstering its Marketing Cloud and highlighting its ability to integrate with all the technology platforms that its large customer base may want to use, with acquisitions of data management platform Krux, marketing analytics vendor Tableau and middleware tech company MuleSoft. For the last fiscal year, Salesforce's Marketing and Commerce Cloud sales reached $2.5 billion, a 32% increase from the year before.
In 2020 all three major suites are branded as clouds: Experience Cloud & Marketing Cloud (x 2). But clouds can still be vertical – and indeed, in spite of all the talk about de-siloing data, these all still are.
---
What's next: from vertical to horizontal
This vertical approach to solving all marketing and advertising needs via a single suite was a good fit for its time. It supported the premise of 1:1, personalized marketing designed to rapidly and cost-effectively move consumers through the funnel, from awareness all the way to loyalty and advocacy, while aggregating enough data along the way to identify what's working and what isn't. Suites would ensure that marketers could deliver the best message in each marketing channel, and if your email marketing was a little out of sync with your display or retargeting for the same consumer, that probably wasn't too big of a deal – some waste is acceptable as long as you can use the same suite to connect all the previously disparate activation systems that you'd want your ads to run on. Digital advertising's addressability promise came at the cost of ecosystem complexity; the most recent ChiefMartec tally of the marketing technology landscape lists 8,000 companies (and is a great visual to scare your kids with for Halloween).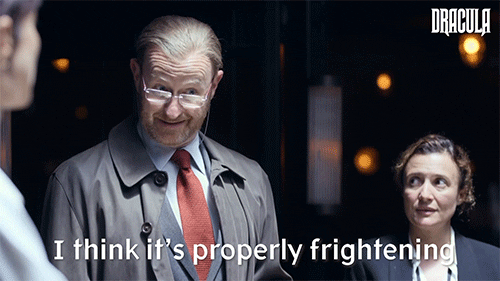 On the consumer side, things don't look so rosy. At the start of the 2010s, the desktop internet was still queen; this changed with the rapid adoption of smartphones, which created the permanently connected consumer. How impactful can any form of marketing be if the user is subjected to hundreds, if not thousands, of ads and offers per day, during regular internet activities? Intrusive practices such as mispersonalization, aggressive use of location, and privacy infractions have compounded into a generally low perception of advertising's utility. Coupled with advertising spend shifting to the domains of walled gardens and an ever-increasing ability to opt out of advertising altogether (whether through ad blockers or paying for ad-free versions of content), online advertising's reach and scale premise no longer seem to hold true. "It's not you," the consumer is telling advertisers. "It's me."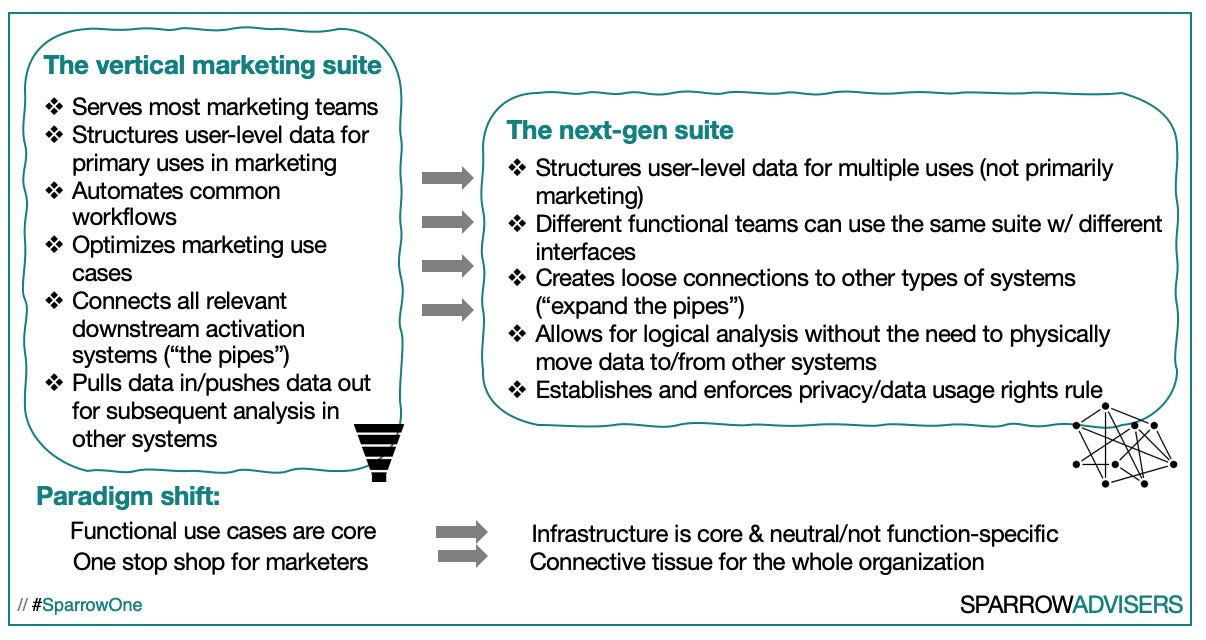 What type of technology shift does that herald?
The shift away from third-party data toward first-party data (which we addressed in this One ) will mean that marketers will still want to own their data and continue to build their data assets. But marketing and advertising data will first need to become multi-modal: not used solely for marketing optimization purposes, but to intelligently inform other business functions. For example, can your logistics and warehouse folks improve their demand modeling based off of ad conversion and on-page activity? Twilio is a good example of the types of pipes and technology connectivity layer that would help enable this (just like their recent acquisition Segment).
To execute on that premise, organizations will next need to know who their customers are. Enter identity – easily one of the hottest topics in martech today. When we talk about identity today we largely look at it as a technology bridge from the world of third-party cookies, which is going away, to the world of semi-authenticated users, which will allow us to keep many of today's processes for how ads are bought, sold, and delivered, while providing a slight upgrade to the underlying technology. We need to go further.
To borrow a term from banking, modern marketing is less about automation and really more about being able to "know your customer" (KYC). While previous approaches to marketing did have the concept of an audience in the center, they were also done in a very campaign-by-campaign and channel-specific way. That shifted to the goal of knowing the customer first, so that companies could learn how to speak to that customer and how not to speak to that customer (which may prove to be more important long term). Once again, we haven't really looked at this from a consumer perspective: Rather than creating more agency for the consumer to tell marketers directly what they want, we're recreating systems where that value proposition to the consumer isn't so clear. Does it matter that The New York Times knows who you are when you're logged in if the ads you're seeing are for various drop-shippers and other low-quality categories that have figured out how to effectively buy primo inventory at auction? If we're asking for users to authenticate and share their identity, is the supposedly improved experience they'd receive in return really worth it? At some point – especially in high-CAC categories like financial services – doesn't it make more sense for a bank vying for your attention to buy you something, such as your Netflix bill, a magazine subscription, or a toaster?
To round out the trifecta, regulatory considerations regarding privacy and data rights are challenging our established practices for data hygiene, storage, and sharing. If we can set strict rules for data use and enable them without physical movement of data (unlike in older data warehousing solutions), then we can work off of insights without risking data breaches and data misuse. This is the arena that Snowflake plays in today: separating the actual location of data from the types of analysis that can be performed on it.
With those shifts underway it's easy to see that existing suites may be a little flat-footed and that newer entrants may emerge. Given Big Tech's affinity for acquisitions, it's possible that all three incumbents will solve their growing pains via ongoing strategic M&A.
But it's not trivial to continue to operate suites optimized for a different era as a new one emerges.By shifting the focus from campaign/action to customer-focused, we're moving beyond just marketing use cases, and beyond just marketing suites. The execution-oriented marketing layer evolves into the connective tissue of orchestration, becoming more horizontal. The audience becomes the biggest asset that can be used for a variety of functions, and not just for marketing.
If we're following lessons from 2010, it's very possible that we'll see a completely different set of incumbents in 2030 than we have in market today.
---
One Question:
With marketing suites, the core technology buyer shifted from the CIO to the CMO. Who's the core buyer of this emerging non-vertical technology layer and what's the replacement cycle? (Is it a rip and replace, augment/run in parallel for a time, or some other type of transition?)
---
Thanks for reading,
Ana & Maja
[Quick programming note: there will be no new One next week, see you back in your inboxes on November 13th.]
---
Dig Deeper:
8,000 marketing technology companies
Twilio, Segment, and going past data silos
eMarketer ad spend projections: Q2 2020 | Blast-from-the-past 2010
---
Enjoyed this piece? Share it, like it, and send us comments (you can reply to this email).
---
We're a results oriented management consultancy bringing deep operational expertise to solve strategic and tactical objectives of companies in and around the ad tech and mar tech space.
Our unique perspective rooted deeply in AdTech, MarTech, SaaS, media, entertainment, commerce, software, technology, and services allows us to accelerate your business from strategy to day-to-day execution.
Founded in 2015 by Ana and Maja Milicevic, principals & industry veterans who combined their product, strategy, sales, marketing, and company scaling chops and built the type of consultancy they wish existed when they were in operational roles at industry-leading adtech, martech, and software companies. Now a global team, Sparrow Advisers help solve the most pressing commercial challenges and connect all the necessary dots across people, process, and technology to simplify paths to revenue from strategic vision down to execution. We believe that expertise with fast-changing, emerging technologies at the crossroads of media, technology, creativity, innovation, and commerce are a differentiator and that every company should have access to wise Sherpas who've solved complex cross-sectional problems before. Contact us here.